Free shippingFor all orders over £35
SupportWe offer comprehensive support on all of our products.
UK WideNext Day Delivery
Xpanda Foam Tape
Xpanda Foam Tape is an excellent expanding joint sealing alternative to polyurethane aerosol foam due to its clean and easy application as well as its cost-efficiency. This product is ideal for professional and DIY use for the installation of windows and door frames as well as for joining structural elements in residential and commercial construction.
Browse our Expanding Foam Tape
Work out which size tape you need with our chart: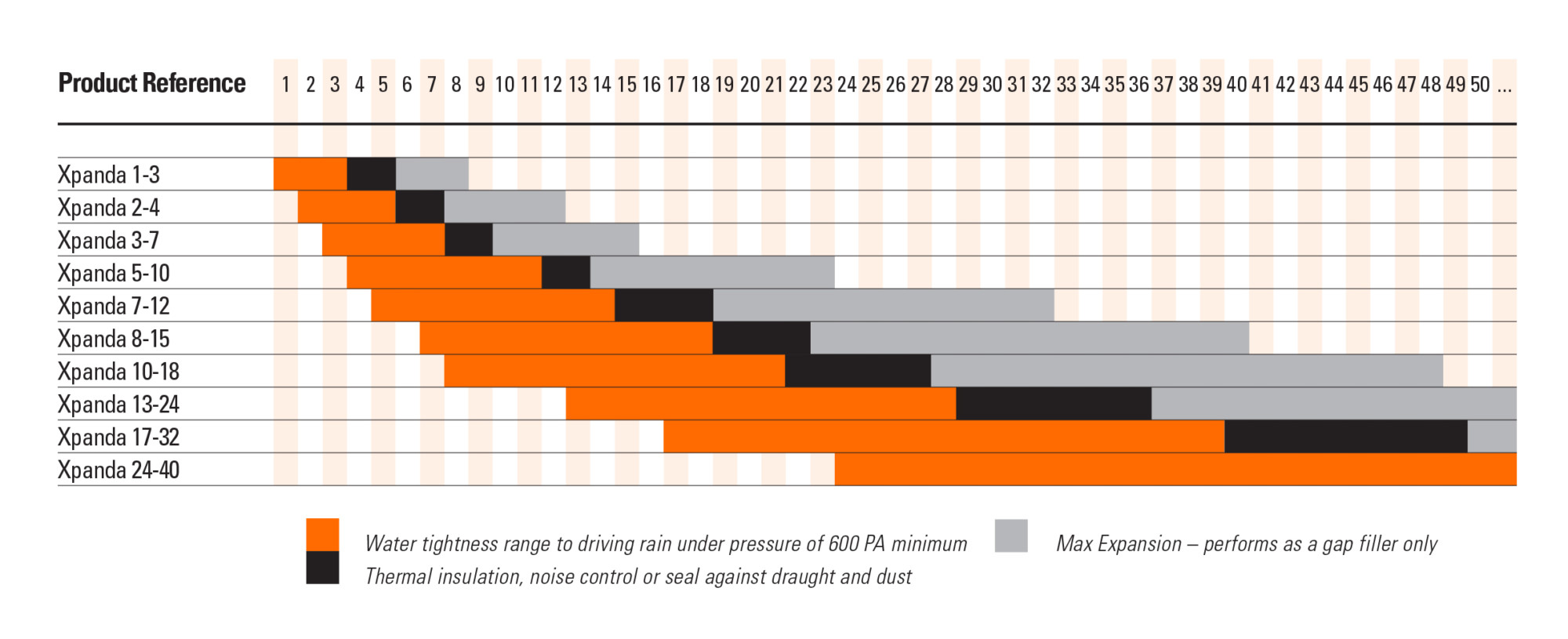 Xpanda 600 Joint Sealing Tape
Xpanda 600 is a soft, expanding foam tape product designed as a weather sealant for domestic and commercial structures. It acts to keep water out whilst retaining heat indoors.
This product is an adhesive scrim tape, which makes positioning straightforward and easy. The polyurethane foam contains chemically-stabilised acrylics, which acts as a flame retardant upon application and as the product sets.
After application, the foam continuously expands and adjusts in proportion to expansion and contraction of gaps thanks to its permanent elasticity properties. This product adapts well to gaps as well as surfaces, including uneven surfaces, so that structures retain excellent thermal and sound insulation for years to come.
Performance
The measured performance of Xpanda 600 is rated at 600 Pascals, or driving rain, at 25 per cent decompression. This product allows for sufficient joint ventilation which prevents the accumulation of mildew, has high UV resistance, and ages well without noticeable cracking or splitting over the years. This makes it ideal in climates with seasonal changes and noticeable expansion and contraction in joints.
Environmentally-Friendly Choice
A major advantage of Xpanda 600 expanding foam tape over traditional aerosol-based polyurethane foam is its low environmental impact. Environmental benefits include:
Less waste due to no empty canisters
No chlorofluorocarbons released in atmosphere
No fire hazard
No mess to clean up after application
Cleaning products not required for applicators since they aren't needed
Fast, easy application
Preserves form to accommodate expansion and contraction
Positioning made easy due to self-adhesive surface
Better insulation – lower energy bills
Reduced overall wastage
Applications
Ideal for use in door frames, window perimeters, exterior facades, curtain walls, skylights, and many other applications where vertical and horizontal joints require adequate sealing. This product is suitable either as a primary or secondary sealant.
Xpanda 600 can be used in most expansion joints, joints in portable structures, timber structures, ducts, mobile home and tiny home manufacturing, abutment seals, and more. It is compatible with most caulking products and can be painted over with water-based acrylic products or latex paint.
Get in Touch with Qualitape
Amazing small business. We've been offered foam at a discounted rate for making PPE visors. Instead of profiteering through the crisis. These amazing humans are stripping profit back to the bone! Thank you!
Anu Ann - 14 April 2020
Excellent products and professional customer service
EwaK-22 24 Sep 2019